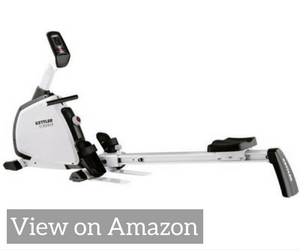 You are here it means you intend to buy Kettler Stroker rowing machine.
If you are looking for a good rowing machine just under a budget of $700 Kettler Stroker could be a good bet.
But before making any buying decision let's dig out some pros and cons associated with Kettler Stroker rowing machine.
Here's an in-depth comparison review of best rowing machines
Why Kettler Stroker
Kettler is a German company started in 1949. So they are not a newcomer and know their business. Among most of you have already decided that you are going to buy this machine, after all, it is a German made :).
But wait and read on.
The Kettler Stroker is a high-quality fitness machine having great looks and space-saving design. Its design ensures smooth and quiet rowing experience that can last for years. The machine can be used for various types of exercises for the overall fitness of all body muscles.
The light-weighted flywheel makes less noise during the workout, which is a significant aspect of any rowing machine. The features are somewhat similar to other high priced machines but at an affordable price.
Well, I will recommend you to raise your budget a little bit and go for Concept2 Model D. The Model D rower is still by far the best rowing machine available in the market that your money can buy.
I've also covered a review of Concept2 Model D, so don't forget to check that out too.
But if you want to stick to your under $700 budget then our thumbs are up for the Kettler Stroker.
Kettler Stroker Rowing Machine Features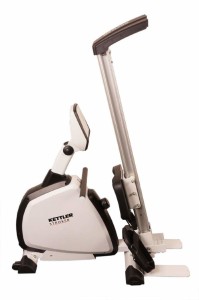 Flywheel:
The flywheels in Kettler Stroker weigh about 4 KG are responsible for the quiet and smooth functioning of the machine. The resistance generated by the machine is magnetic. The resistance can be adjusted by an index of 1 to 8, for a variety of fitness levels.
Display Monitor:
Kettler Stroker is equipped with a multi-functional LCD display. The LCD doesn't require additional AC power since it uses 2 AA batteries. Monitor functionalities include-
Time spent on rowing
Oar Strokes
Heart Rate
Current Cadence (number of strokes rowed per minute)
Cumulative Distance
Kilo-joules
Heart Rate Measurement:
A Polar T-34 chest strap is used to measure the heart rate during rowing. That can later be stored in a computer and help to track your daily fitness improvements.
Portability and Storage:
Unlike other rowing machines that take too much storage space, the Kettler Stroker rowing machine can be easily folded up into the compact shape. And if you have less space in your house for a rowing machine then Kettler would be a good choice.
Pros
Looks
Heart Rate Monitor
High build quality at low price
Space saving foldable design
1 to 8 index of resistance level
Lifetime warranty on frame and 3 years on parts
285 lbs: max user weight
Cons
Tiny Screen
Somewhat inaccurate readings
Lack of proper instructions to setup
My Conclusive Words
If you are on a budget and want to stick under $700 then Kettler Stroker is a great bargain and better choice than others in this price range.
How To Use Kettler Stroker Rowing Machine
I hope you liked my review and if it helped you in making the right purchase decision with Kettler Stroker. Please do let me know in the comments below. 🙂